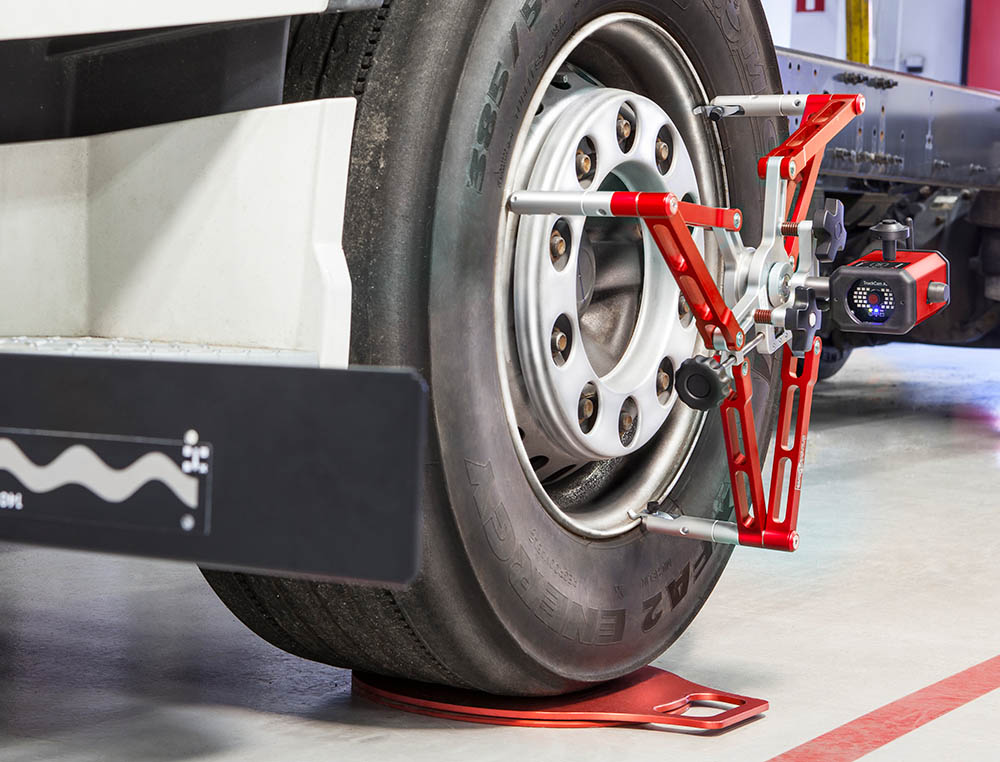 cam-aligner
Fast wheel alignment for any vehicle. Anywhere.
Cam-aligner is an extremely robust and flexible system, allowing you to measure anything from an army tank to a pickup, even in the harshest of environments.
It can even be used on non-flat surfaces, since road inclination can be compensated for. This make it the most all-round system in our portfolio.
Cam-aligner is the product of choice for workshop managers who want to increase their profit through fast alignment on trucks anywhere in the workshop or even on the road.
JOSAM cam aligner - Measuring 6x2 truck by rolling

JOSAM cam aligner - How to adjust toe

JOSAM cam aligner - Run out

JOSAM cam aligner wheel alignment - Measuring turn angles

JOSAM cam aligner wheel alignment - ACC calibration

JOSAM cam aligner wheel alignment - Laser AM upgrade
Measuring range
Toe
±40 mm/m
Camber
±6°
Caster
±20°
KPI
±20°
Max. turn
65°
Measuring accuracy
Toe
±0.2 mm/m*
Camber
±3 min*
* For each camera
Operation
Operational time
14 h**
Charging time
3 h
** On fully charged batteries
System requirements
Supported operating systems
Windows® 10
Other software requirements
Wireless server driver must be installed prior to software installation.
Administrator rights during installation and operation of the software.
CPU
64-bit CPU is required.
Recommended:
• Intel 8th generation processors (Intel i3/i5/i7/i9-7x), Core M3-7xxx, Xeon E3-
xxxx, and Xeon E5-xxxx processors
• AMD 8th generation processors (A Series Ax-9xxx, E-Series Ex-9xxx, FX-9xxx)
• ARM64 processors (Snapdragon SDM850 or later)
RAM
At least 4 Gigabyte (GB) of RAM required.
8 Gigabyte (GB) or higher recommended.
Hard disk space
20 Gigabyte (GB) of available hard disk space.
Graphics
WXGA (1366 x 768) or higher-resolution video adapter and monitor.
Input devices
Keyboard and Mouse or compatible pointing device.
Other
Wireless server, article # CA1009/CA1009 A (Note: This is included in complete measuring kits).
Internet connection required when registering license and for remote support.
cam-aligner
File
Size
Date
Download
1.74 MB
09/10/2018
1.77 MB
05/10/2018
1.77 MB
05/10/2018
1.78 MB
05/10/2018
1.78 MB
05/10/2018
1.78 MB
05/10/2018
1.78 MB
05/10/2018
1.09 MB
05/10/2018
1.45 MB
02/25/2020
2.92 MB
05/10/2018
1.44 MB
05/4/2020
cam-aligner - Mercedes-Benz Wheel Alignment
File
Size
Date
Download
2.13 MB
6/03/2018
2.13 MB
6/03/2018
2.11 MB
6/03/2018
2.13 MB
6/03/2018
2.13 MB
6/03/2018
2.14 MB
6/03/2018
2.14 MB
6/03/2018
2.22 MB
6/03/2018
2.16 MB
6/03/2018
3.67 MB
6/03/2018
3.70 MB
6/03/2018