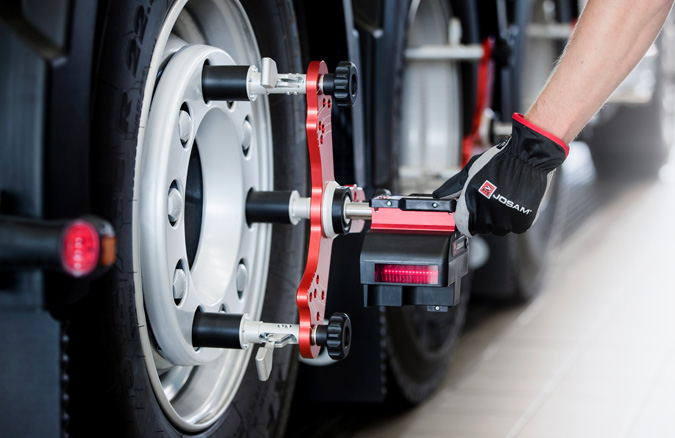 I-track II
Wheel alignment as it should be – advanced yet simple
I-track is our fastest wheel alignment system. It can measure a 6×2 truck in less than 4 minutes, and is especially suited for busy workshops with potential for a high number of profitable wheel alignment services.
The speed and the design will streamline your workflow and increase your productivity and profitability.
JOSAM i-track workflow, 3D presentation

Measuring semi-trailer with JOSAM i-track

Measuring truck and semi-trailer with JOSAM i-track

Measuring articulated bus with JOSAM i-track

JOSAM i-track - measuring bus
Measuring range
Toe
±25°
Camber
-5° … +10°
Caster
±20°
KPI
±20°
Max. turn
60°
Measuring accuracy
Toe
±0.25 mm/m*
Camber
±3 min*
* For each measuring head
General
Supported rim sizes
16″–24″
Equipment storage
On wall panels or on trolley
Operation
Operational time
12 h**
Charging time
5 h
** On fully charged batteries
Computer requirements
Supported operating systems
Windows® 7 64-bit
Windows® 8 (Note: Windows 8.1 required)
Windows® 10
Other software requirements
Microsoft .Net Framework 4
Microsoft .Net v1.1 service Pack 1
Administrator rights during installation and registration of the software.
Note: in versions prior to 3.2.0.3, administrator rights is needed during installation and for operation of the software.
CPU
PC with >2.2 gigahertz or higher processor clock speed recommended;
1.6 GHz minimum required (single or dual processor system);
Intel Pentium/Celeron family, or AMD K6/Athlon/Duron family, or compatible processor recommended.
RAM
4 Gigabyte (GB) of RAM or higher recommended.
Hard disk space
20 Gigabyte (GB) of available hard disk space.
Graphics
Super SVGA (1024 x 768) or higher-resolution video adapter and monitor.
 Input devices
Keyboard and Mouse or compatible pointing device.
 Other
JOSAM Bluetooth module, article # JT621 (Note: This is included in complete measuring kits)
1 x USB port for software installation
Note: do not use/purchase a computer with built-in Bluetooth function.
I-track II - I-track II brochure
File
Size
Date
Download
2.52 MB
09/17/2018
2.52 MB
09/17/2018
2.53 MB
09/17/2018
2.53 MB
10/25/2018
2.53 MB
09/28/2018
2.53 MB
10/24/2018